---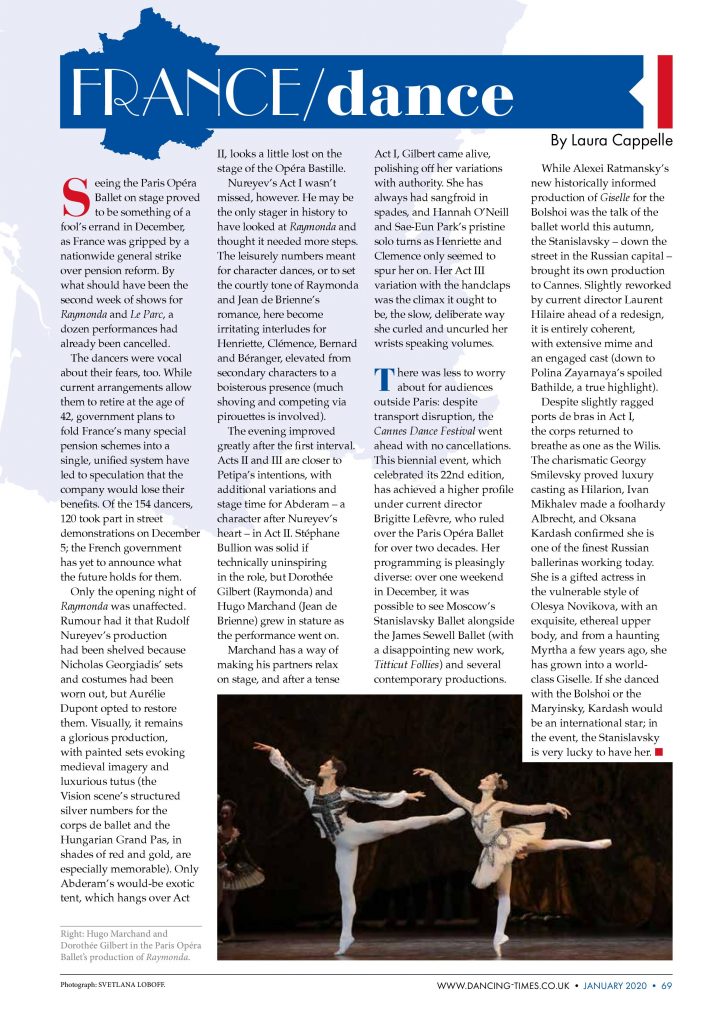 Reviews
I started writing about dance and theater over a decade ago and have reviewed hundreds of performances since, from ballet premieres around the world to drag shows in Paris and experimental work at the Avignon Festival.
I currently write a regular column on French theater for the New York Times. From 2017 to 2022, I was also behind "France/Dance," a monthly dispatch about French choreography for Dancing Times. Here are some of my favorite reviews from the past few years:
Tiago Rodrigues's theater of compassion / New York Times, October 2022
The Crucible — witch-hunt ballet casts a powerful spell / Financial Times, June 2022
Rediscovering France's early female playwrights / New York Times, April 2021
With Paris theaters closed, church is the only show in town / New York Times, December 2020
A cabaret in a nursing home, while France's theaters are closed / New York Times, June 2020
Choreography goes down the pecking order at the Paris Opera Ballet / Financial Times, September 2019
Rewriting the rules of drag in Paris / New York Times, August 2019
Dance festival wrestles with Tunisia's post-revolution politics / Financial Times, June 2019
In Sydney, theater that resonates across borders / New York Times, March 2019
In Robert Lepage's 'Kanata,' the director, too, plays the victim / New York Times, December 2018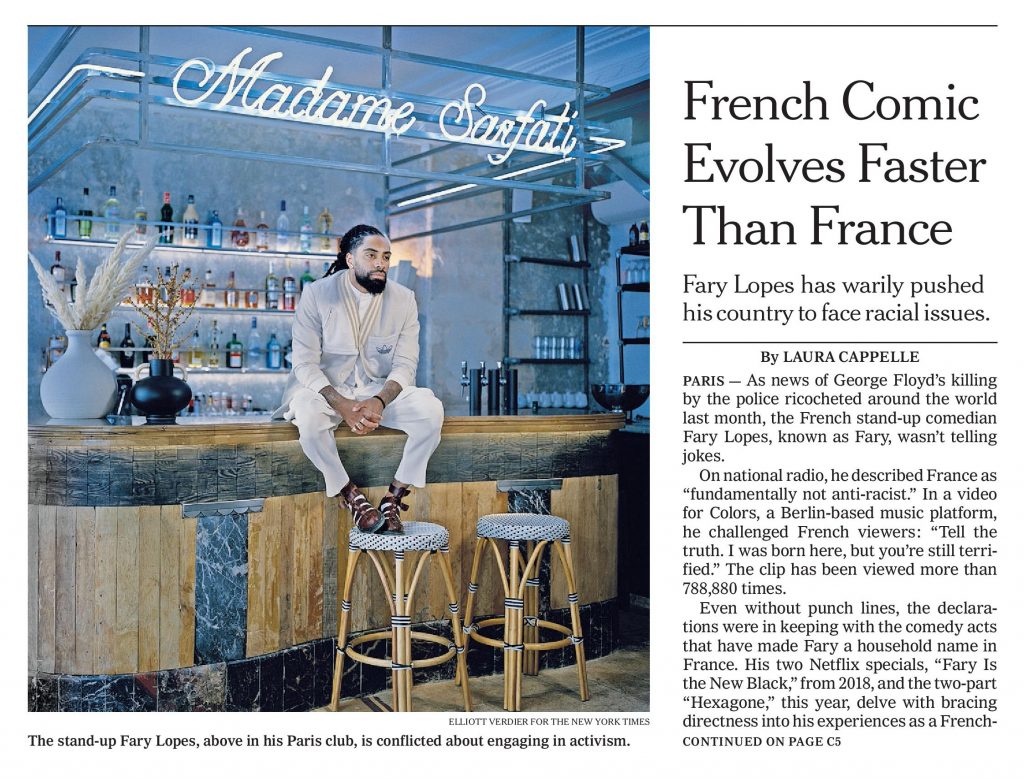 Interviews
I have interviewed a wide range of artists over the years, from established and emerging choreographers to prominent French authors, directors, and even an A-list actor or two. Some recent examples:
Choreographer Jiří Kylián on bringing his work to the UK and facing his fiercest critics / Financial Times, October 2022
Angélica Liddell: For this Spanish provocateur, each performance is about survival / New York Times, July 2021
David Diop: He is Senegalese and French, with nothing to reconcile / New York Times, May 2021
Virginie Despentes makes France angry, but things are changing / New York Times, June 2020
"I don't conform": backstage with the indomitable Isabelle Huppert / The Guardian, March 2020
Choreographer Oona Doherty: "I'm so blessed, but I don't have a clue what's going on" / The Guardian, July 2019
Marcelino Sambé: The Royal Ballet's princely powerhouse / Pointe Magazine (cover story), May 2019
Didier Eribon: Journey into Le Pen country / Financial Times, June 2017
Crystal Pite: in charge of the room / Financial Times, September 2016
William Forsythe dances to a new tune / Financial Times, March 2015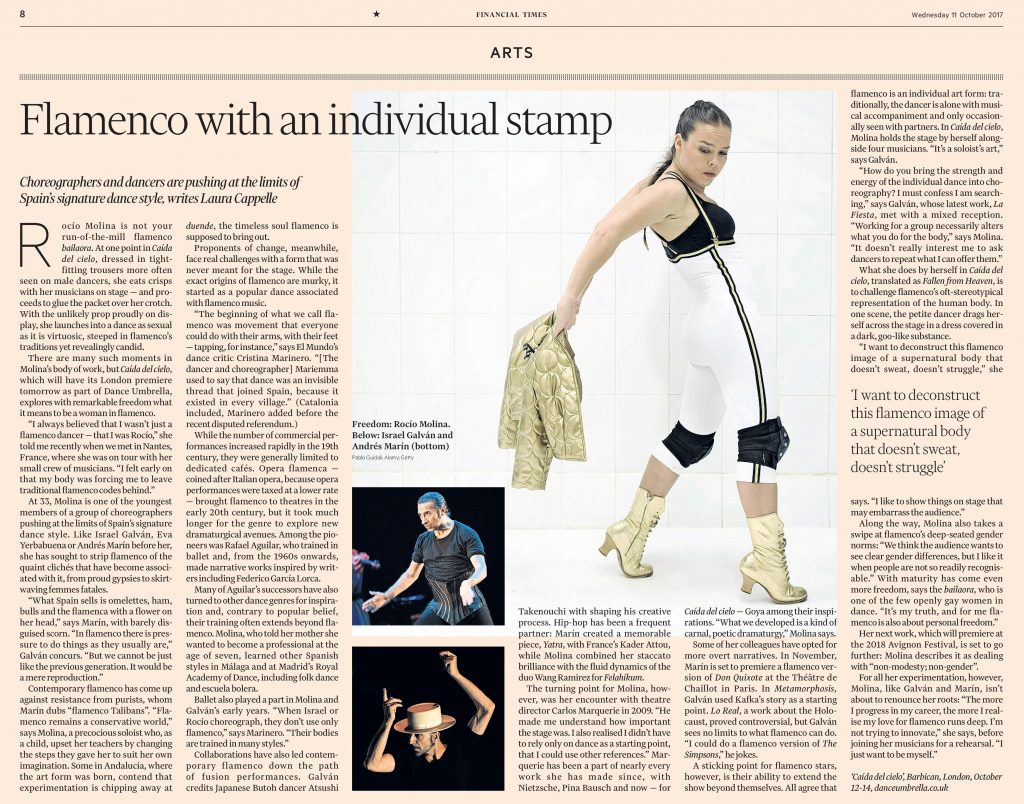 Features
My features tend to explore current debates within the performing arts.
Why did Instagram pause this play? Its creators still don't know. / New York Times, September 2022
Is multi-view streaming the future for the performing arts? / Financial Times, January 2021
If it's fiction, can it be an invasion of privacy? / New York Times, December 2020
In Europe's theaters, outsiders tread a tricky path / New York Times, September 2020
Five major dance critics stepped down last season. What does that mean for the future of the field? / Dance Magazine, August 2019
Is crowdfunding the future of opera and ballet? / Financial Times, May 2019
DAU: a slippery realm where reality blurs into fiction / Financial Times, March 2019
Girl: why a film about a transgender ballerina has sparked controversy / Financial Times, December 2018
Flamenco with an individual stamp / Financial Times, October 2017
More words…
Contributor pages : The New York Times / The Financial Times / The Guardian /
Pointe Magazine / Dance Magazine